Blanc de Blancs
While this wine can be enjoyed by itself as an apéritif, it is also perfect with fresh oysters and other shellfish, crab cakes, ceviche and grilled sea bass. It is also delicious with lemon chicken and Thai curries. Vegetable or crab quiche, vegetable terrine, Parmesan bread sticks, calamari fritters. Serve with aged Gouda or other hard cheeses, and as a counterpoint to soft triple creams.
Courses might include sole, trout, sashimi, seafood mousse, veal scaloppini, roast chicken, pheasant, squab or turkey, fettuccine with black olives and chives, angel hair pasta with champagne-tarragon cream sauce.
Blanc de Noirs
Schramsberg Blanc de Noirs is particularly well-suited to serve with a variety of foods, including soft and nutty cheeses, macadamia nut-crusted halibut, and pork tenderloin with fresh rosemary and lemon thyme.
Courses might include tenderloin of veal or pork in reduced wine sauce, grilled halibut or tuna steaks, sauced shellfish, vegetable or cheese soufflés, sautéed rabbit, risotto with chanterelles, potato-chèvre galette.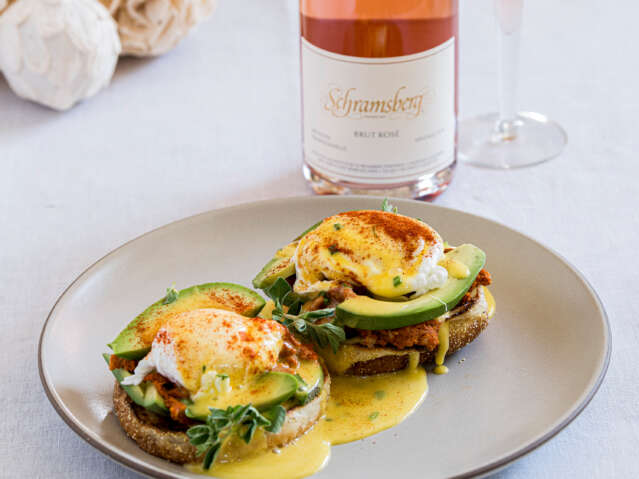 Brut Rosé
Enjoy this rich, delicious sparkler on almost any occasion: at your favorite restaurant, a special dinner at home, at a beach picnic or a backyard barbecue. A very versatile wine; try it with sushi, salmon, rock shrimp, pizza, roast chicken, BBQ ribs, burgers, chocolate raspberry tarts and creamy, mild cheeses with summer fruits.  Prosciutto, ham, spicy meats and vegetable dips, spring rolls, onion puffs, dim sum.
Courses might include scrambled eggs and chives, grilled salmon, chicken with lemon and herbs, boned quail, Andouille sausage, gumbo, shellfish pasta, pasta alla puttanesca, pesto dishes, Asian cuisine.
Cabernet Sauvignon
Cabernet Sauvignon is one of the more complex and layered wines out there. It has stronger tannins and a savory character which can sometimes be perceived as black pepper and tobacco. Based on these qualities, look for foods high in fat and flavors for Cabernet Sauvignon food pairing. Try Cabernet Sauvignon with grilled pork, a chicken sausage and mushroom pizza with tomato sauce or a well marbled rib-eye steak.


Crémant Demi-sec
The sweetness in Crémant is subtle, providing a fine balance with desserts, such as fruit tarts, poached fruits, light cakes, custards, fruit tarts, mousses, soufflés, angel food or pound cake with fruit and toasted almonds, custards, filbert roll with ginger cream, gingerbread upside down cake, ricotta pie, exotic sorbets, and crème brûlée. It also compliments a wide range of spicy Asian foods, blue cheeses, and matches especially well with foie gras.
J. Schram Blancs
J. Schram is quite appealing on its own as an apéritif or enjoyed with fresh shellfish, caviar, smoked salmon, tangy cheeses, seafood brochettes, or risotto with prosciutto, focaccia, oysters Rockefeller, vegetable pate, endive and baby shrimp, scallops sautéed with fresh herbs, lobster spring roll.
Courses might include seafood brochettes, filet mignon with foie gras, veal piccata, holiday stuffed turkey, brioche with portobello mushrooms.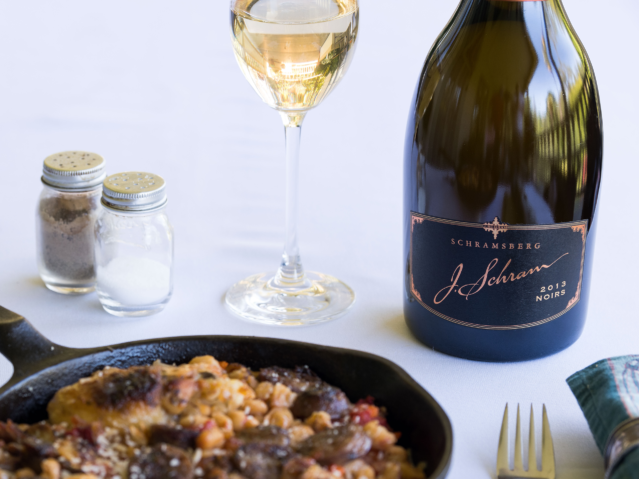 J. Schram Noirs
Schramsberg Reserve is well-suited with a main course, such as fruit-stuffed veal, pork tenderloin, roasted duck with mango, cedar-plank grilled salmon, and curried chicken salad. This flavorful bubbly also can be served as an apéritif with smoked oysters, caviar and such hard cheeses as aged Swiss Sbrinz, Sonoma Vella Jack, or Irish Coolea. Also, gravlax, glazed chicken wings, caviar or salmon roulades, beef carpaccio, mushroom tarts.
Courses might include turbot in champagne sauce, red snapper in shallots and butter, rack of lamb, pasta with truffles, lasagna with shitake mushrooms and port sauce.
J. Schram Rosé
J. Schram Rosé is the epitome of grace, style and elegance in a glass. A delicate rosé, due to being primarily Chardonnay, which lends itself to be served as an apéritif, with a first course or a light main course.
Courses might include consommés, cedar planked lobster, scallop ceviche, grilled swordfish, fresh crab, grilled poultry or roasted pork loin.
Pinot Noirs
With beautiful fruitful characters and bright acidic structure, our Davies Vineyard Pinot Noirs lend themselves to being served with many dining options. Pair our Pinot Noirs with a your main course of lamb, duck or venison, or as a starter wine with a nice wild mushroom and burrata bruschetta or some fresh goat cheese.